"I can't wait to get home to move my favorite drawing."
I've heard that, and similar comments, many times after giving a talk on art. I learned much on this topic from conservationists. As much as I love so many of my favorite works, I can't always hang them where I would prefer.
My comments are my personal recommendations, but you can find more by expert conservationists on the Internet. But just doing some of the basics should suffice for most of us.
Three principal enemies of art are heat, light and humidity.
Rapid change in heat and humidity should be avoided. Museum conservators prefer to maintain a stable heat level of 65 – 68 degrees and humidity between 40% – 60% in galleries. All works on paper or board should never be in constant direct light, and only a moderate amount of time in ambient light – indirect light. That means that your prints, drawings and photographs are vulnerable. I suggest placing those works in areas with very low light or where lighting can be off most of the time, such as a hallway.
Incandescent light qualifies as direct light. I learned that many years ago when I bought two identical posters, hung one and stored the other. After several years hanging in the kitchen, I compared it to the one in storage. The one hanging in the kitchen was a shadow of the one in storage. A lesson well learned before buying expensive original art. Oil paintings on canvas can endure moderate amounts of ambient light for a longer time.
If you purchase unframed works on paper or board, you should take them to a professional framer in your area. Acid-free paper, matting and frame backing materials are essential for fine prints, drawings and photographs. Backing should never be that ugly brown paper, only proper hard-back material. Once paper backing is punctured, the art is exposed to dirt and dust. Ordinary paper is made from wood pulp, which tends to yellow over time and could discolor the artwork. Acid-free paper is made from cloth or rags.
Most museums use a ratio for works on paper and board of ten to one, storage time and exhibit time. Which means, prints, drawings and photographs will be in storage most of the time. However, LED can lengthen the time in light. Many museums now have light systems in contained galleries exhibiting sensitive works, that automatically turn lights on and off when visitors enter and depart, which greatly reduces exposure to light. Still, rotation of works on paper is critical to their survival. Properly stored and exhibited prints and drawings can last hundreds of years, but perhaps only a few years in your home if you leave them in the light too long. So, if an artwork on paper or board has been exposed to ambient light for an extended time, rotate it to a dark hallway or closet.
There's something strange about people hanging pictures so high that the tallest person in the family is looking straight at it. The rest of us are looking up. When entering as a house guest, it's the first thing I notice about the art, along with tilting frames. Yikes, can't they see it's leaning?
I've hung thousands of artworks so my eye catches those poorly hung works immediately.
The average height of art hung in museums is 57" to 60" to the center of the artwork. If I want to place the work in a lower setting, perhaps next to a table, lamp and chair, I will move it down so it looks like a grouping. Works hung above a sofa, buffet or table, might be hung higher than 57", but not so high as to leave a big gap below. Just use your imagination to create aesthetic arrangements.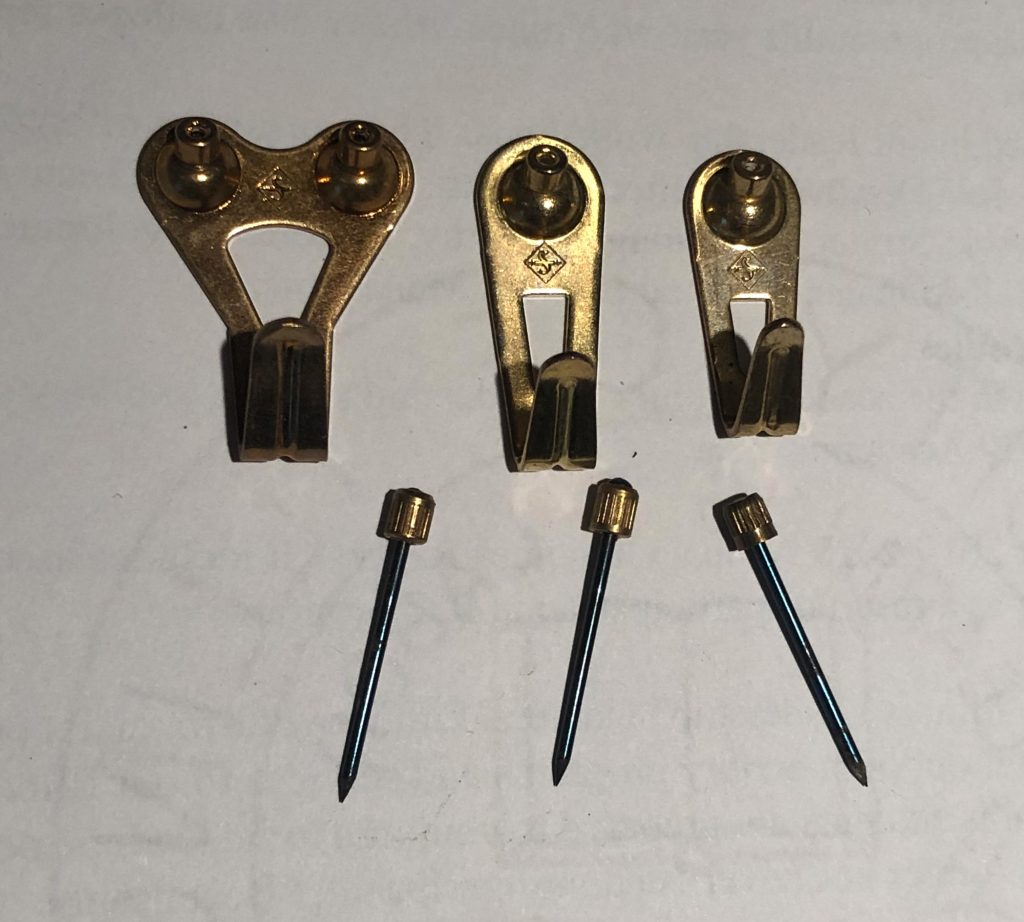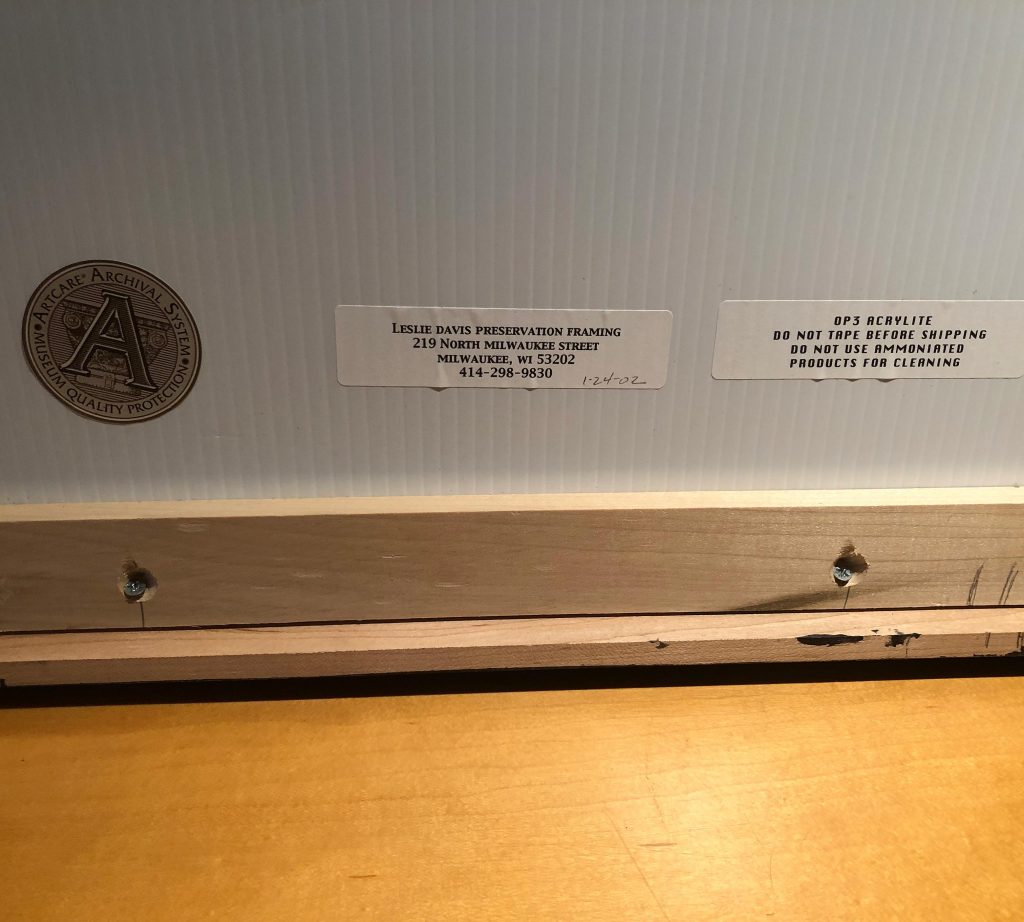 Most artwork should be hung with two proper hooks and nails. The nails shown are thin and strong, and easier to repair holes when removed, especially when used on wallpaper or fabric coverings. Why two nails? So you can easily straighten the frame to ensure the frame won't fall if one nail breaks off. Place a level on top of the frame after hung and straighten. Plus, the two hooks don't have to be exactly across, just close to level. And leave a little slack in the wire so the picture can be straightened.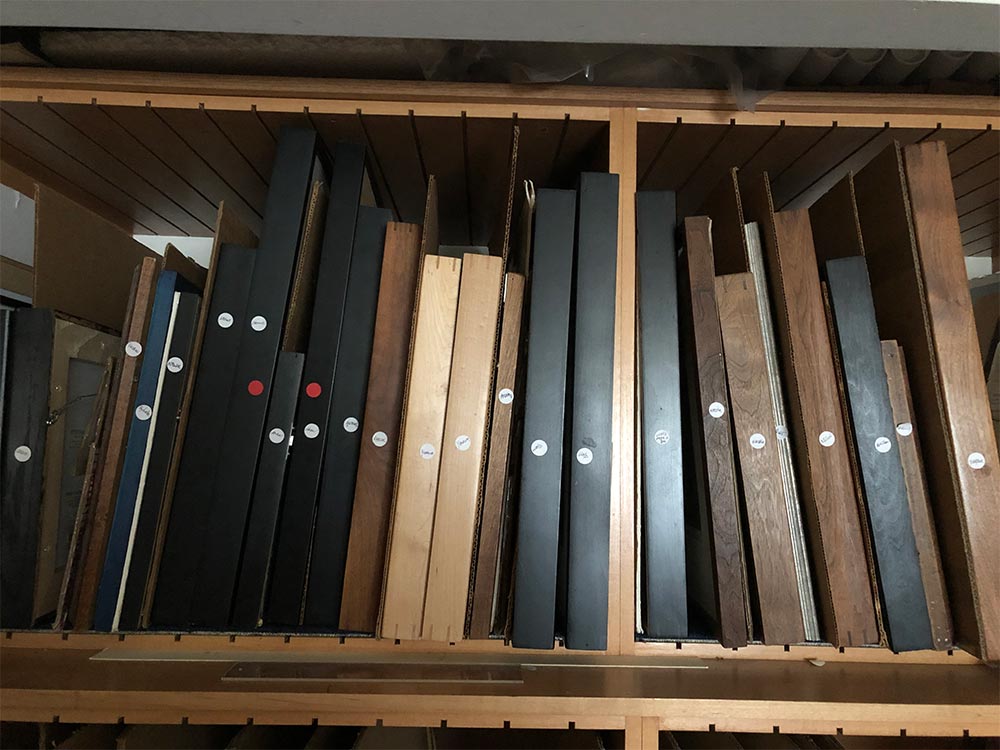 When storing framed artwork, stand them up with cardboard between each one. If cardboard is not available place them front to front or back to back to avoid the wire and hooks on one damaging the front of another frame.
If you have expensive artwork that you would hate to lose, insurance is highly recommended. I use Chubb, which is a popular insurance company for insuring art collections. You should provide your insurance agent/company with information on each piece: the name of the artist, the title of the work (or one you assign) the medium, the size and other description. Artworks are measured vertical number first, then width, and depth if appropriate. 12X20x4.
My policy is relatively inexpensive, even though I have hundreds of items. I highly recommend taking photos of all your artwork, whether insured or not, to prove ownership in case of fire or theft. You don't need professional photography. I have a closeup of all works, and partial shots of rooms, just to prove they belong to me.