BY ANTHONY PETULLO
Art Without Category
British & Irish Art from the Anthony Petullo Collection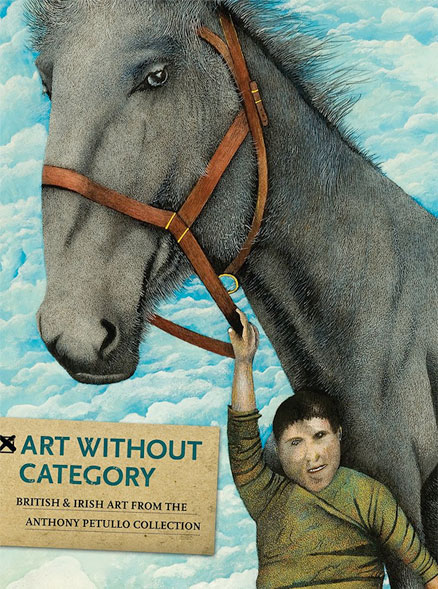 Over the past 20 years Anthony Petullo has assembled an outstanding collection of works by artists who are often described as "self-taught," "naïve," or "outsider." In Art Without Category, he calls those labels into question, exploring the lives and work of 10 extraordinarily gifted artists from Great Britain and Ireland who operated outside the artistic mainstream, determinedly and sometimes obsessively pursuing their singular visions. All received some degree of recognition during their lifetimes, yet they are, as Petullo writes, "orphans without an art family," creating works that do not fit into the conventional narrative of twentieth-century art. This abundantly illustrated volume, which includes an introductory essay as well as a biography of each artist, demonstrates that they are nevertheless an essential part of the story.
Self-Taught & Outsider Art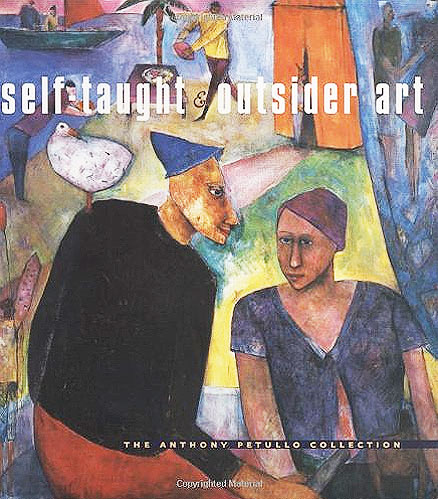 This spectacular volume reproduces in full color some of the 150 pieces from the Anthony Petullo Collection, an extraordinary assemblage of paintings and drawings produced by individuals working outside the perimeter of conventional art training and traditions. Some of the pieces are fanciful, even whimsical. Others are haunting in their unembellished depiction of vulnerability and terror. Some are spare; others are crowded with figures. Some exhibit a childlike simplicity; others are almost sculpted in their precision and clarity.
The 36 European and American artists represented in Self-Taught and Outsider Art include a hospital janitor, a factory worker, concentration camp survivors, a truck driver, a guard at the Tate Gallery, a self-proclaimed fortuneteller and healer, and a female impersonator and Hollywood screenwriter. Their "canvases" include paper, wood, long strips of calico cloth and cardboard. One artist paints with both hands simultaneously; another finds it difficult to paint except amid the chaos of his family. Many began painting late in life; others had early dreams of pursuing art that were deferred by economic and family circumstances. Some have been institutionalized or incarcerated; others have struggled with terrible poverty and personal loss.
Perhaps more than the work of conventionally trained artists, pieces by outsider self-taught artists are entwined in the identities of their creators. In support of that connection, Self-Taught and Outsider Art presents the artworks in conjunction with portraits, usually photographs, of the artists and brief biographical sketches. In some cases a friend or patron provides an anecdote about the artist. Taken together, these offer an intimate glimpse of the process by which art emerges from experience.
Accidental Genius
Art from the Anthony Petullo Collection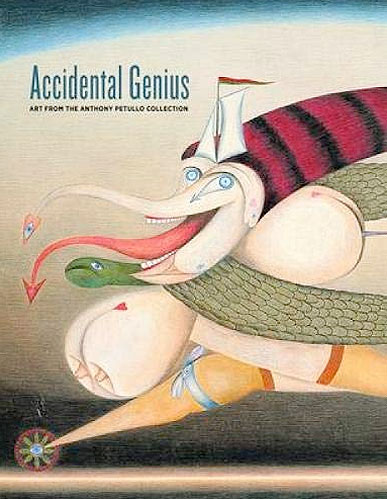 It is now widely acknowledged that some of the most compelling works of modern and contemporary art have been created by artists traditionally categorized as self-taught. There are artists who – because of poverty, isolation, mental or physical disabilities, or other circumstances – operate outside the established structure of art schools, galleries, and museums, but never the less produce significant bodies of work. Accidental Genius: Art from the Anthony Petullo Collection, celebrates the gift to the Milwaukee Art Museum of Anthony Petullo's extraordinary collection of works by self-taught creators.
Petullo, a retired Milwaukee businessman, built his collection over three decades, acquiring works by the most important European and American artist in the genre, including Henry Darger, Minnie Evans, Martin Ramirez, Frederick Schroder-Sonnenstern, Bill Traylor, Alfred Wallis, Adolph Wolfli, and Anna Zemankova. Compromising more than 300 artworks, the collection is the most extensive grouping of its kind in any American museum or in private hands.
This richly illustrated volume includes a complete catalog of the Petullo Collection, which is complemented by essays that discuss the collection in the context of the history and reception of nonmainstream art in the U.S. and Europe.
Scottie Wilson
Peddler Turned Painter
Scottie Wilson (1891-1972) was a self-taught artist who achieved recognition from both the art world and the popular media. Nevertheless, he remained an outsider who lived modestly and would sell his pictures to people he met on the street for a fraction of what they sold for in galleries. The child of Eastern European emigres, Scottie (born Louis Freeman) grew up in the poor, predominantly Jewish Gorbals section of Glasgow. He left school at the age of nine, worked at a number of odd jobs, and after a period in the military (which included serving on the Western Front during World War I), established himself in London as a dealer in second-hand goods.
In the 1930s, Scottie moved to Canada, and it was there in the back room of his shop that he discovered his vocation as an artist. Once he began drawing, he never stopped, and he eventually began to show his work throughout Canada. Given the difficulties of his early life, Scottie's drawings and paintings are surprisingly idyllic, dominated by vividly colored flora and fauna, rendered in a distinctive hatching technique. In 1945, he returned to London, where he initially exhibited with the Surrealists, who saw infinities between Scottie's inventive imagery and their own art. He later traveled to France to meet artists Jean Dubuffet and Pablo Picasso, who both acquired examples of his work., and in the 1960s he received commissions to design patterns for ceramics and textiles. Despite his successes, Scottie remained aloof from the cultural establishment, viewing his utopian images as providing an alternative to "this wicked world."
Scottie Wilson: Peddler Turned Painter tells the fascinating story of this complex and enigmatic figure, presenting many new biographical details based on extensive research and tracing the evolution of his art. The color palettes illustrate works in various media spanning the length of Scottie's career, and this volume also includes a selection of remarkable black-and-white portraits of the artist.