Bill Traylor
1854–1949, American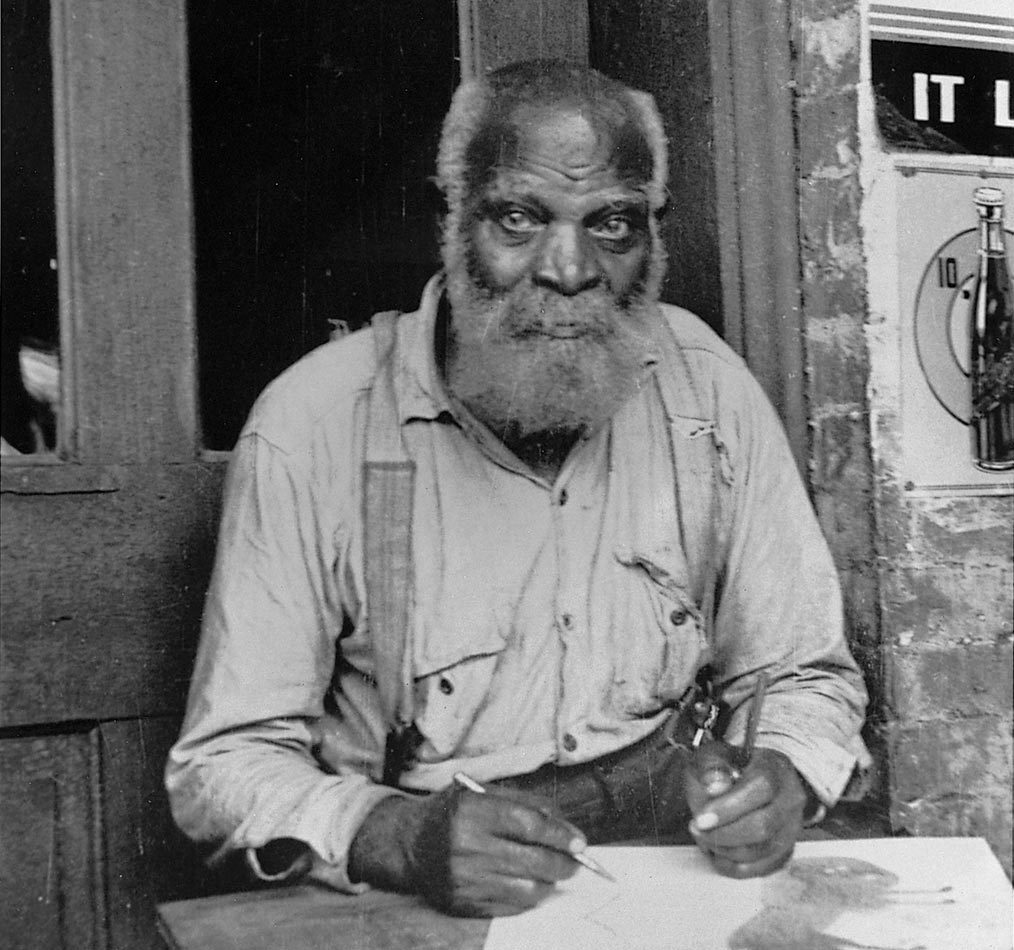 Bill Traylor's drawings of silhouetted humans and animals on cardboard pithily communicate a telling expression or gesture. Traylor spent the first eight decades of his life on the George Hartwell Traylor cotton plantation near Benton, Alabama, where he was born into slavery. Witness to great historical changes, he remembered Union soldiers plundering and burning the plantation in 1865. He stayed at the plantation as a sharecropper after the Civil War, married in 1891, and raised nine children.
In 1935, after the plantation owners had died and his children had moved away, Traylor moved to Montgomery, Alabama, and worked in a shoe factory. When rheumatism prevented him from working there, he received government assistance checks and slept in the back room of the Ross-Clayton Funeral Home. In the spring of 1939 a young artist, Charles Shannon, noticed Traylor drawing with pencils on found pieces of cardboard, near a blacksmith's shop on Monroe Avenue. Traylor drew tools, animals, and the many passersby in the busy shopping area near the train station and sold his works for small amounts. Shannon began visiting him and bringing him paper, ink, pens, and crayons. Traylor experimented with color but continued to work on cardboard, carefully composing his figures with a straightedge.
Shannon and his colleagues, members of the New South movement, exhibited roughly one hundred of Traylor's works at their gallery in 1940. Shannon took Traylor's drawings to New York in 1941. There friends put him in touch with the director of the Department of Education at the Museum of Modern Art, who organized a 1942 exhibition of Traylor's work at the Ethical Culture Fieldston School in Riverdale, New York. In the same year, Traylor moved to Washington, D.C., with his daughter, then visited his children in Detroit, Chicago, New York, and Philadelphia before returning to Montgomery. He died at St. Jude Hospital in Montgomery.
Portfolio of Work
Click Arrows to View More Artwork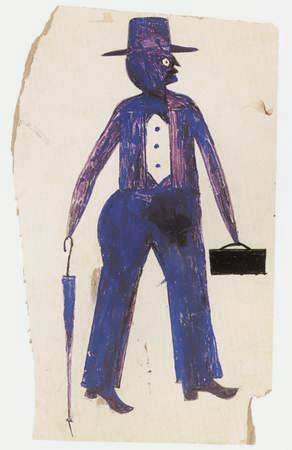 Blue Man with Umbrella and Suitcase, 1939
Pencil and tempera on cardboard
American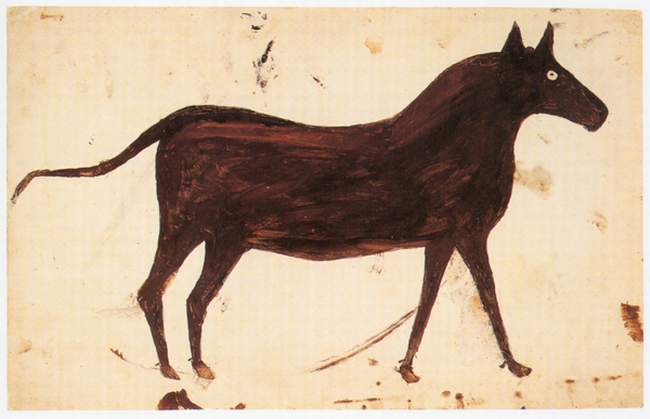 Brown Mule, 1939
Pencil, crayon, and gouache on board
American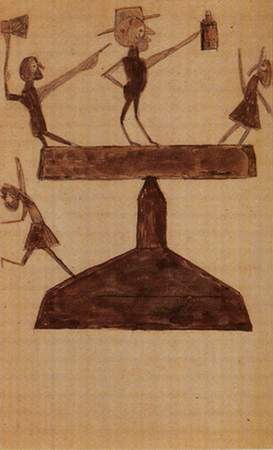 Four Figures Construction, c. 1939
Pencil and tempera on cardboard
American
Donated to the Milwaukee Art Museum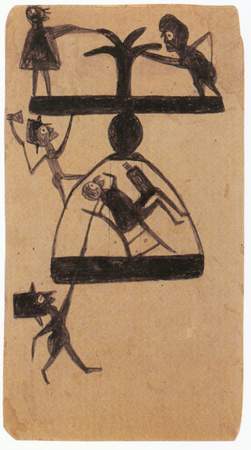 Walnettos Figures Construction, 1939
Poster paint on cardboard
American
Donated to the Milwaukee Art Museum