Dwight Mackintosh
1906–1999, American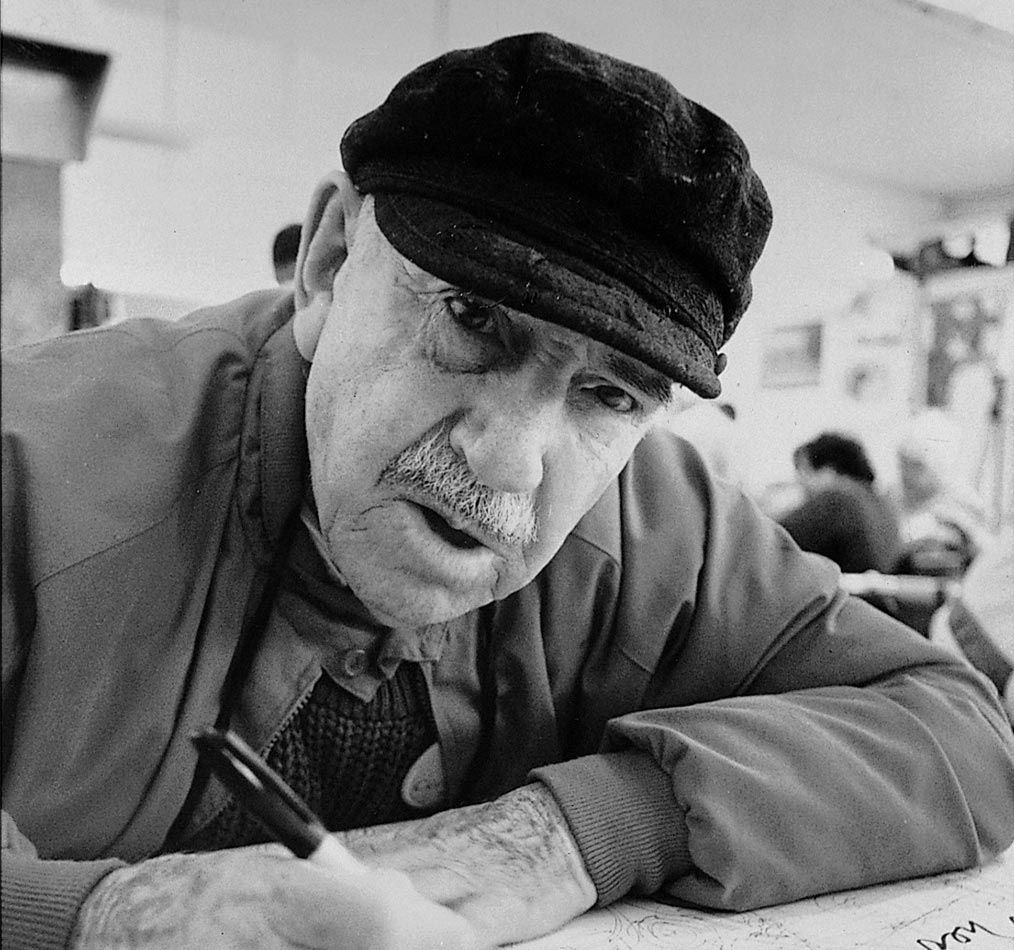 Dwight Mackintosh hailed from Hayward, California. At the age of sixteen, he was diagnosed with mental retardation and institutionalized in Sonoma State Hospital. In 1947 he was transferred to De Witt State Hospital in Auburn and finally to Stockton State Hospital in 1972, spending a total of fifty-six years in hospitals. In classes at the Alan Short Center at Stockton State Hospital, he demonstrated an interest in and aptitude for drawing, and after his release in 1978 (as part of a mass release of patients), he registered for art classes at the Creative Growth Art Center in Oakland, California, which provides adult artists with disabilities with a professional studio environment for five days a week. Mackintosh devoted himself to drawing with great concentration.
Mackintosh's early drawings, made with black felt-tip pen, feature male figures, buildings, and calligraphic, largely indecipherable script. As he continued working, he experimented with colored pencils, watercolor, and chalk, creating works of great variety though adding only a few more subjects—including musical instruments, animals, and automobiles—to his repertoire. In his later years he had several strokes, and this altered the quality of his lines, which took on a rippling effect. His work has been shown in exhibitions throughout the United States and is held in major American and European collections.
Portfolio of Work
Click Arrows to View More Artwork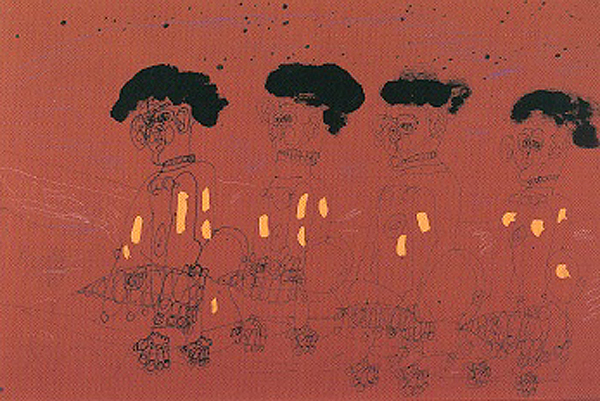 Four Men, 1984
Ink and tempera on rust colored paper
American
Donated to the Milwaukee Art Museum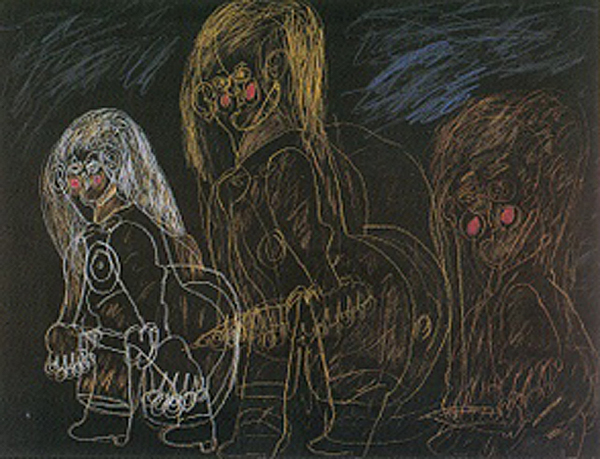 Untitled (three figures), 1987
Prismacolor on paper
American
Donated to the Milwaukee Art Museum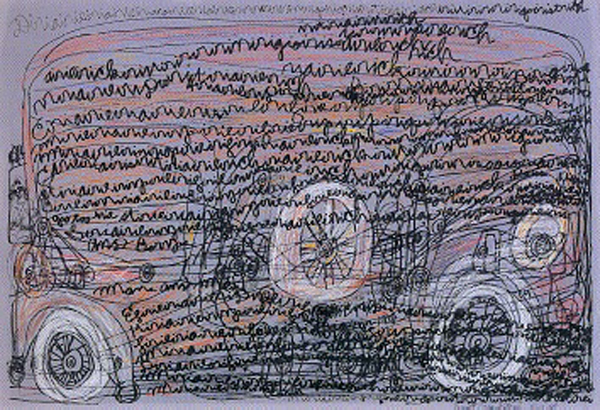 Untitled (vehicle), n.d.
Pastel and ink on paper
American
Donated to the Milwaukee Art Museum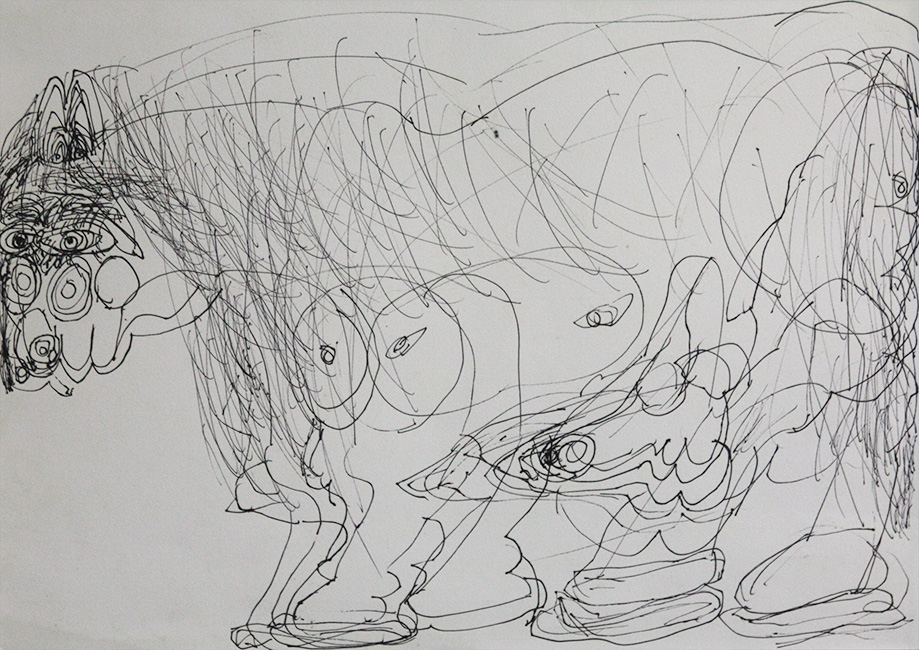 Untitled, n.d (Front)
Ink on paper (recto and verso)
American
Donated to the Milwaukee Art Museum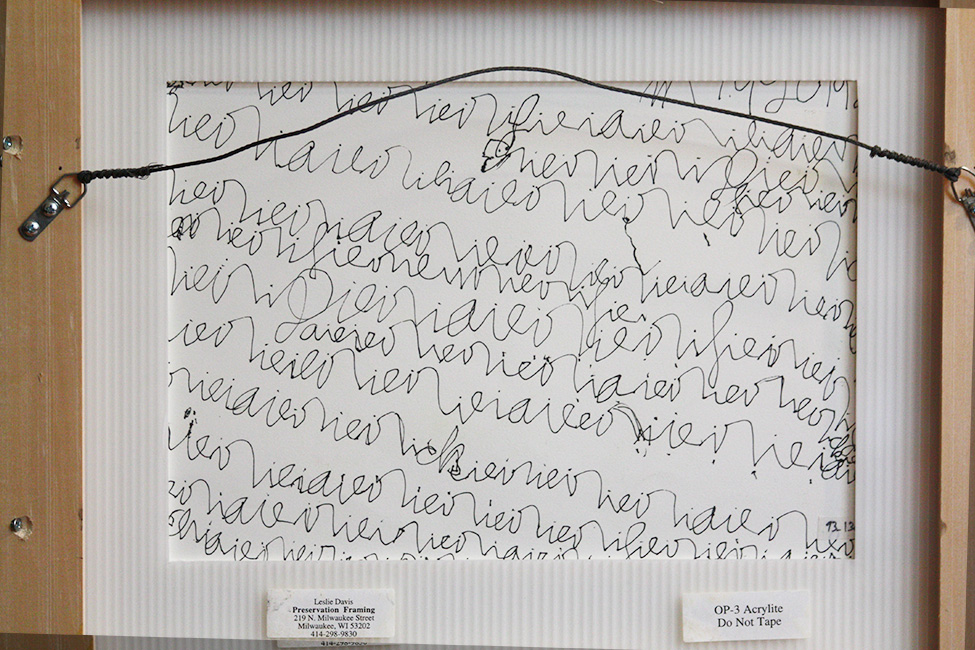 Untitled, n.d (Back)
Ink on paper (recto and verso)
American
Donated to the Milwaukee Art Museum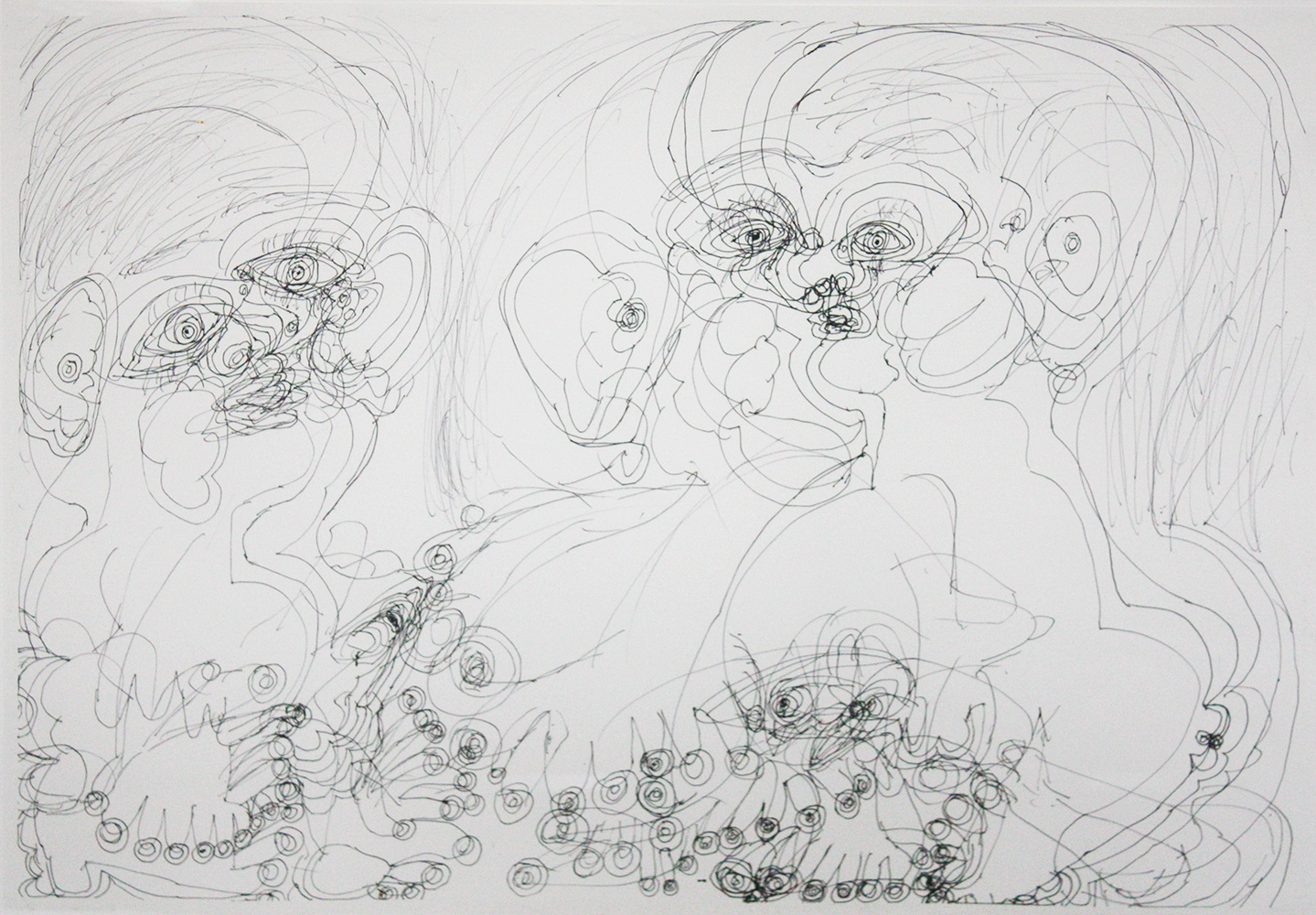 Untitled, n.d
Ink on paper
American
Donated to the Milwaukee Art Museum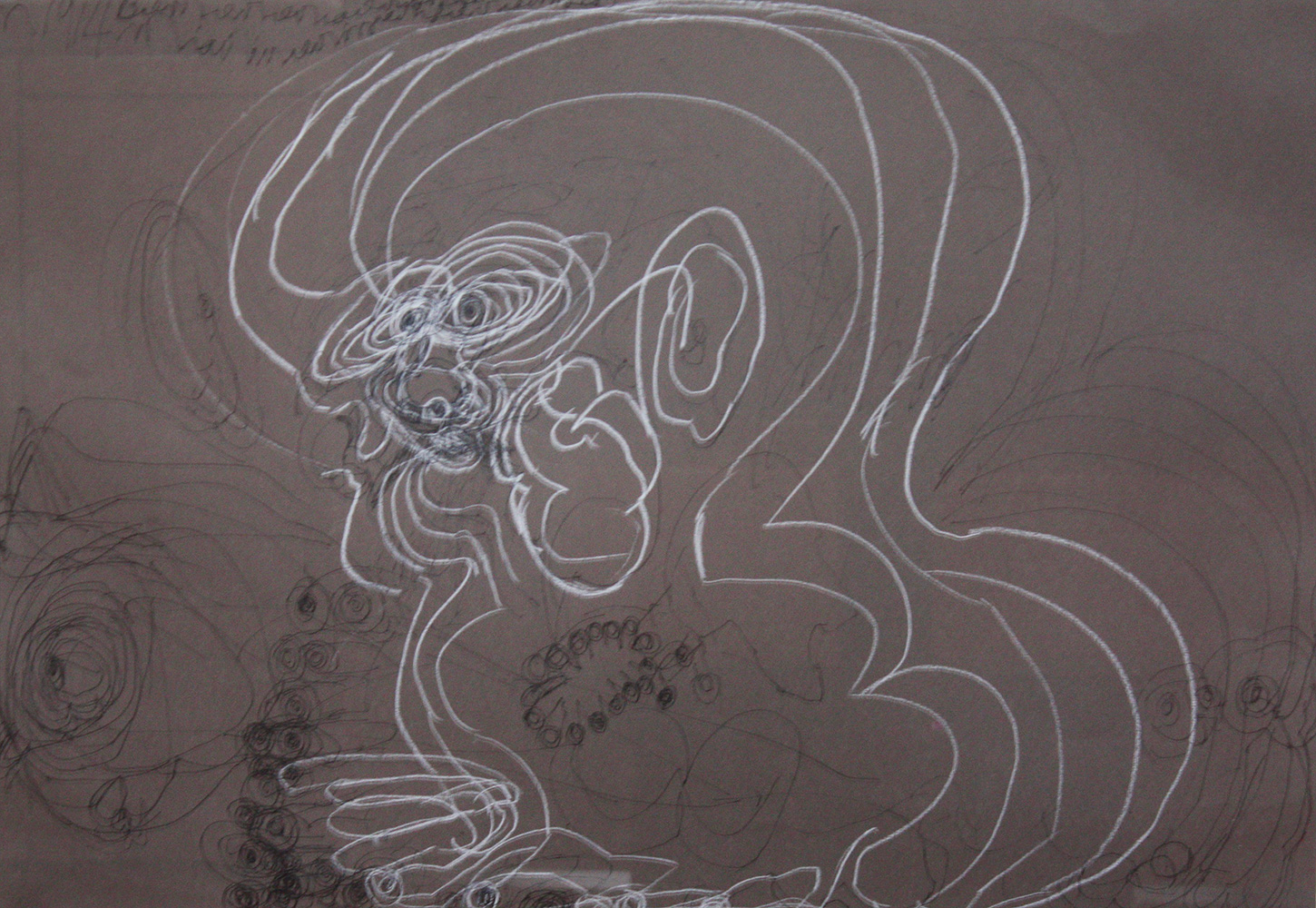 Papa, 1993
Colored pencil on paper
American
Donated to the Milwaukee Art Museum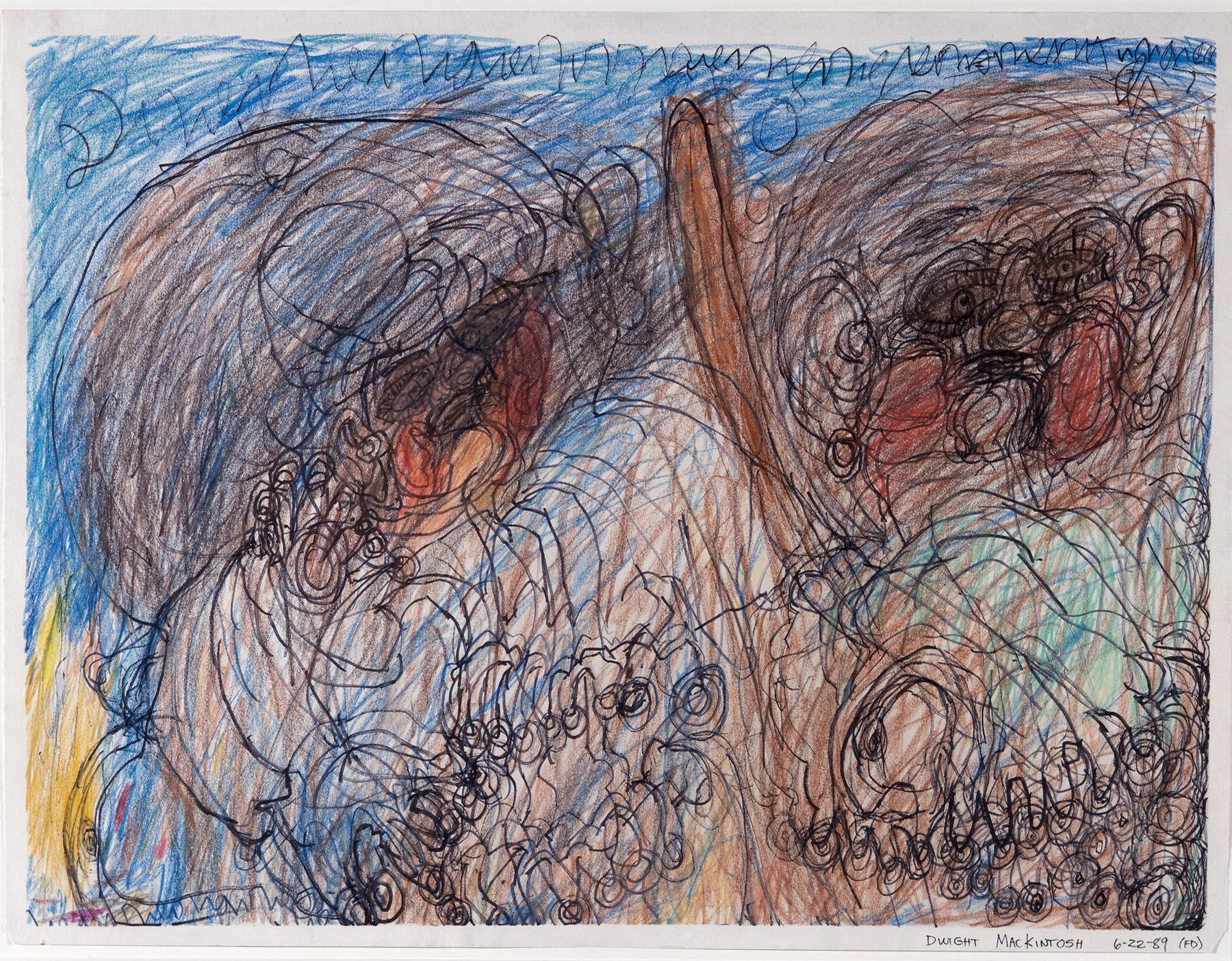 Untitled, 1989
Colored pencil and ink on paper
American
Donated to the Milwaukee Art Museum
Untitled (Sister and Mother), 1993
Ink on paper
American
Donated to the Milwaukee Art Museum