Johann Fischer
1919–2008, Austrian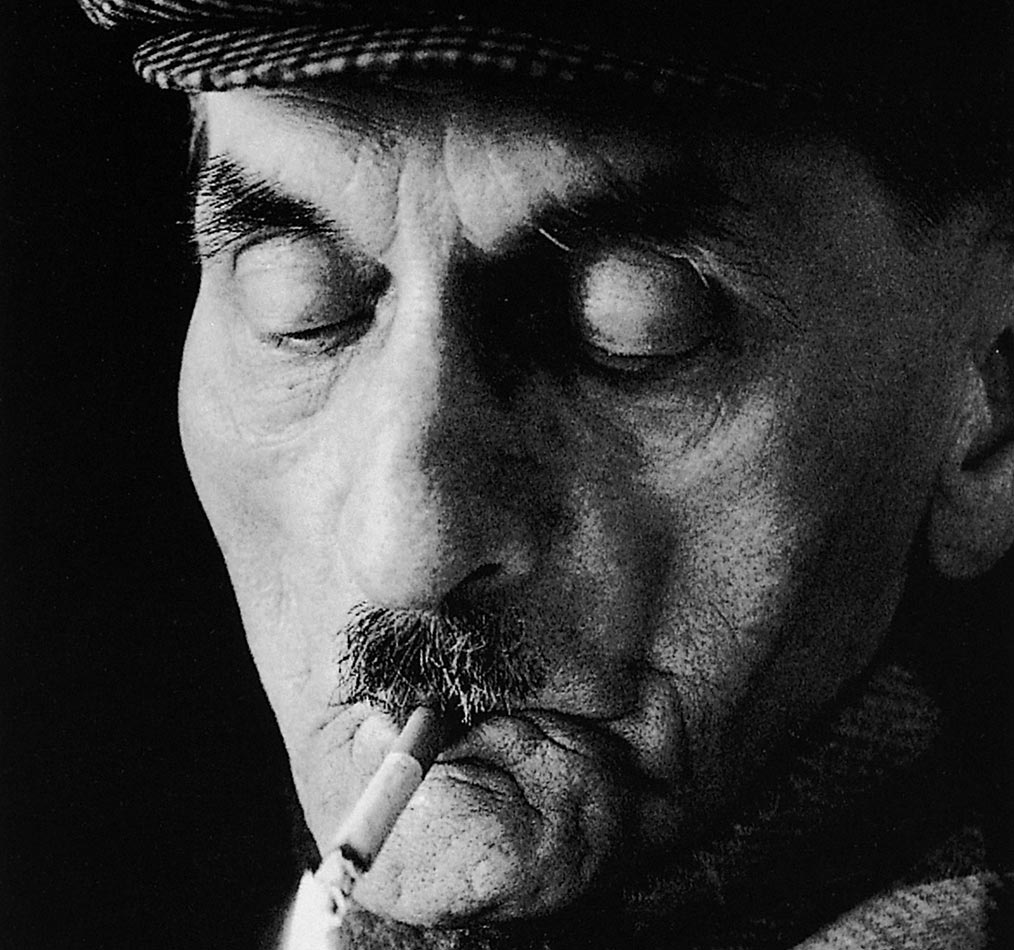 Johann Fischer was born in Kirchberg am Wagram, Austria. He grew up on a small farm with six siblings and trained as a baker. In 1940, following the outbreak of World War II, he was drafted into the German army and was later captured by American forces. He returned home in 1946 and worked on his parents' farm, taking it over when his father retired. In 1957 he received treatment for hallucinations. He was institutionalized in the hospital in Maria Gugging, an area within the town of Klosterneuburg, outside Vienna, in 1961.
Fischer began a routine drawing practice, with the encouragement of psychiatrist Leo Navratil, at the age of sixty-three. Recognizing the talent of his patients, Navratil founded a residential community of psychiatric patients with serious artistic practices called the House of Artists. It opened in 1981 on a hilltop in Maria Gugging. The small building accommodates about nine residents. Fischer moved into the House of Artists in 1982.
Working from his imagination, Fischer portrayed humans, animals, farm life, and political events in pen and crayon in his early drawings. His later works often incorporate neatly lettered satirical and humorous texts. His works have been included in many group exhibitions, such as ABCD: A Collection of Art Brut at the Museum of American Folk Art in New York in 2001.
Portfolio of Work
Click Arrows to View More Artwork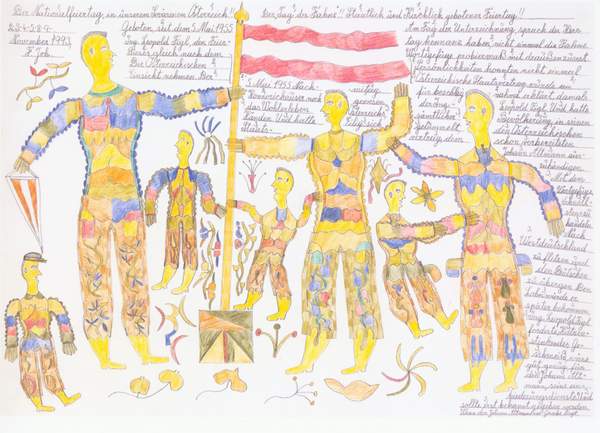 Flag Day, 1993
Pencil and colored pencil on paper
Austrian
Donated to the Milwaukee Art Museum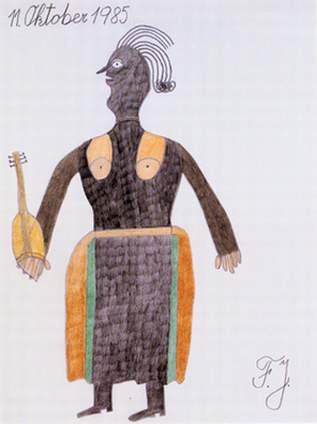 Musician, 1985
Pencil and colored pencil on paper
Austrian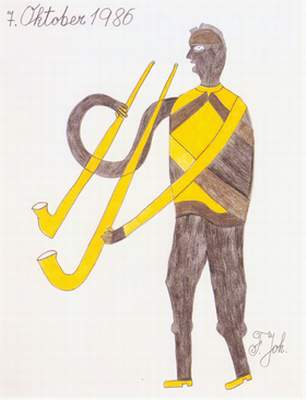 The Mountain Meadows, 1986
Pencil and colored pencil on paper
Austrian
Woman Ski Jumper, 1986
Pencil and colored pencil on paper
Austrian
Donated to the Milwaukee Art Museum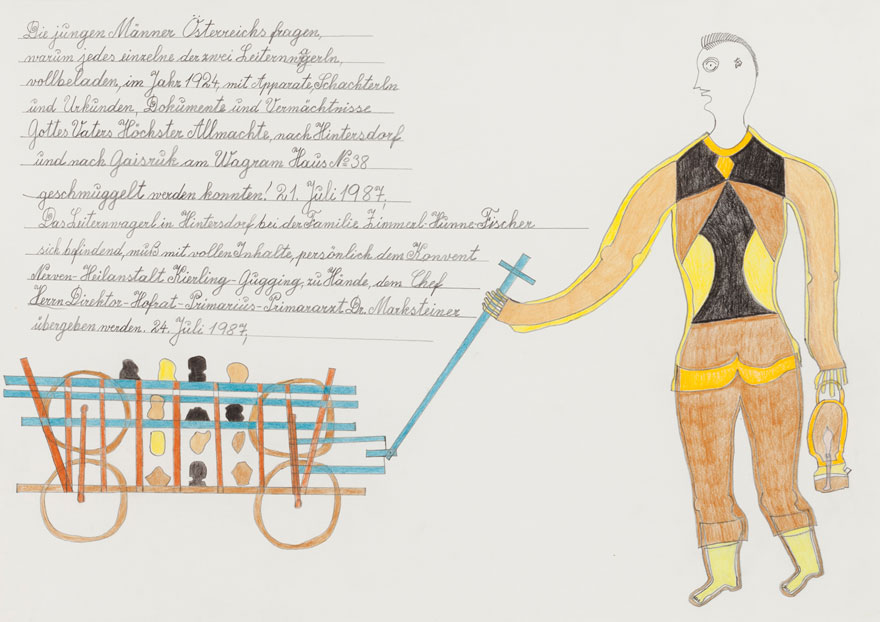 Untitled, 1987
Pencil and colored pencil on paper
Austrian
Donated to the Milwaukee Art Museum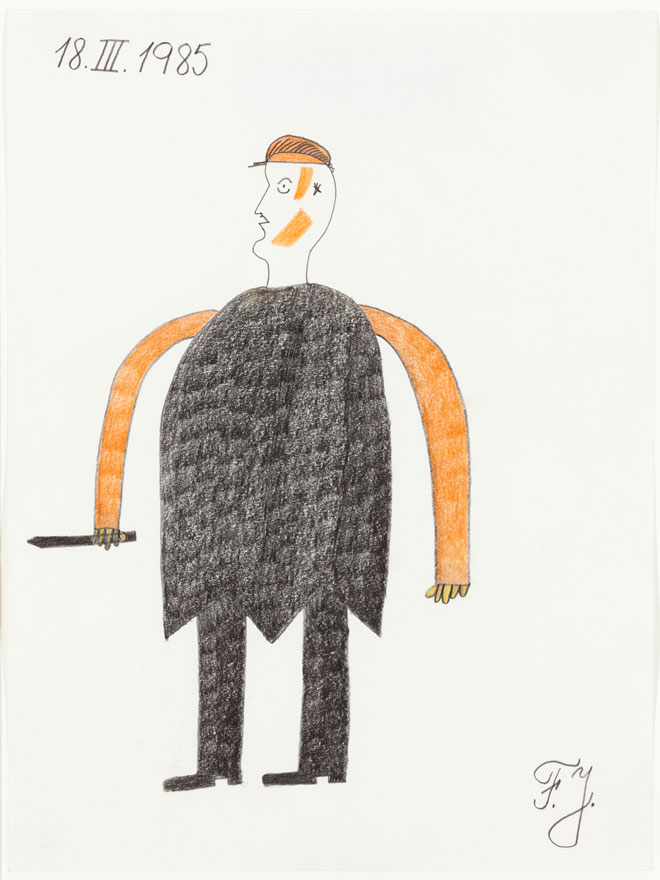 Der Zeichner!, 1985
Pencil and colored pencil on paper
Austrian
Donated to the Milwaukee Art Museum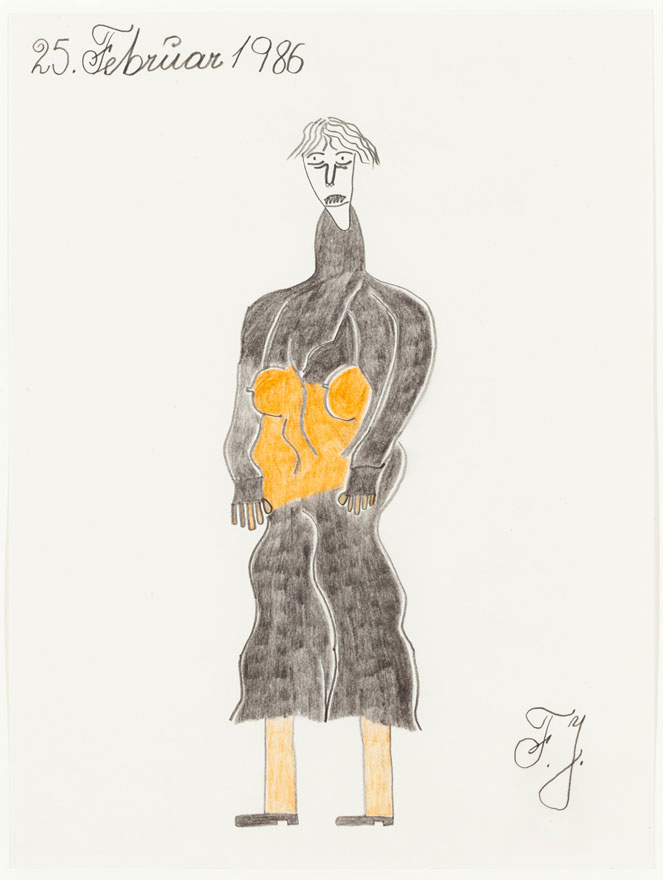 Junge Jung Frauen Unbeflekt Schlank Vollschlank Schlank, 1986
Pencil and colored pencil on paper
Austrian
Donated to the Milwaukee Art Museum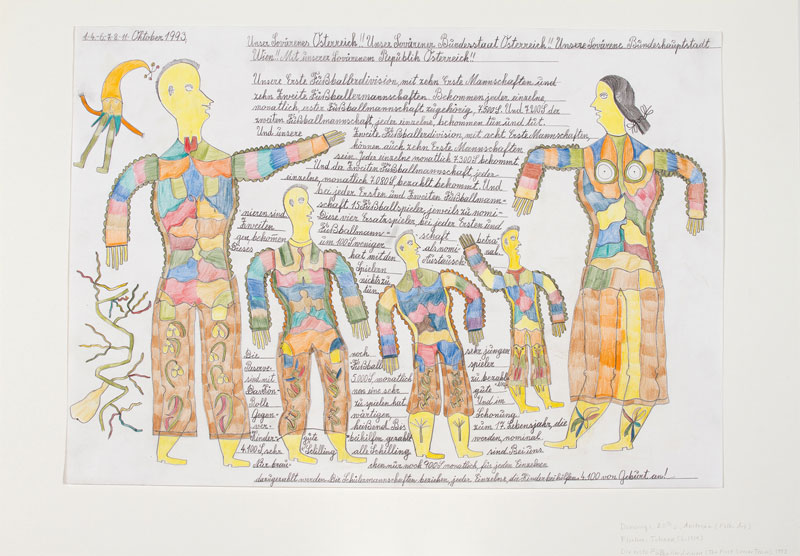 The First Soccer Team, 1993
Colored pencil and pencil on paper
Austrian
Donated to the Milwaukee Art Museum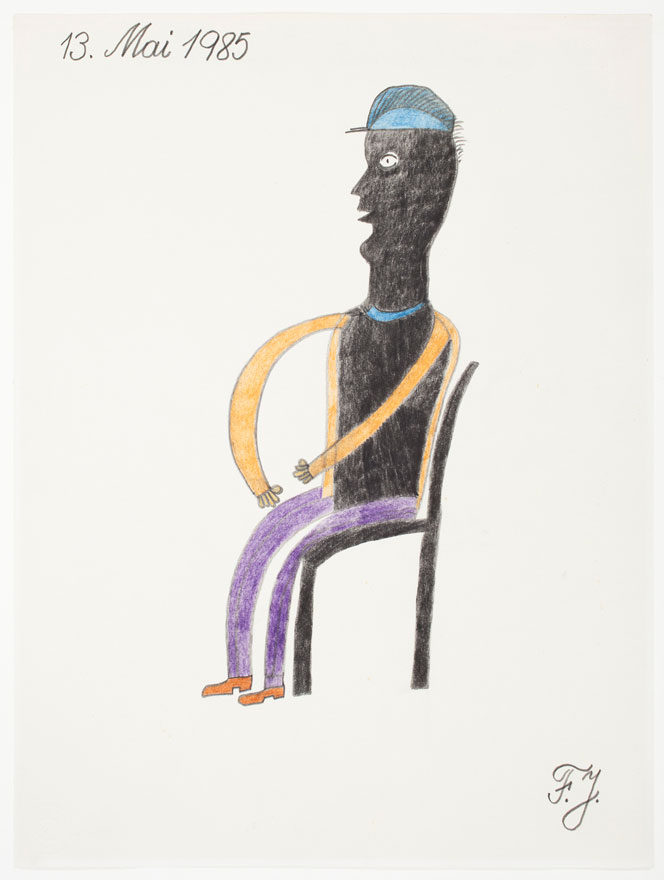 An Unknown Young Man, 1985
Colored pencil and pencil on paper
Austrian
Donated to the Milwaukee Art Museum