Joseph E. Yoakum
1890–1972, American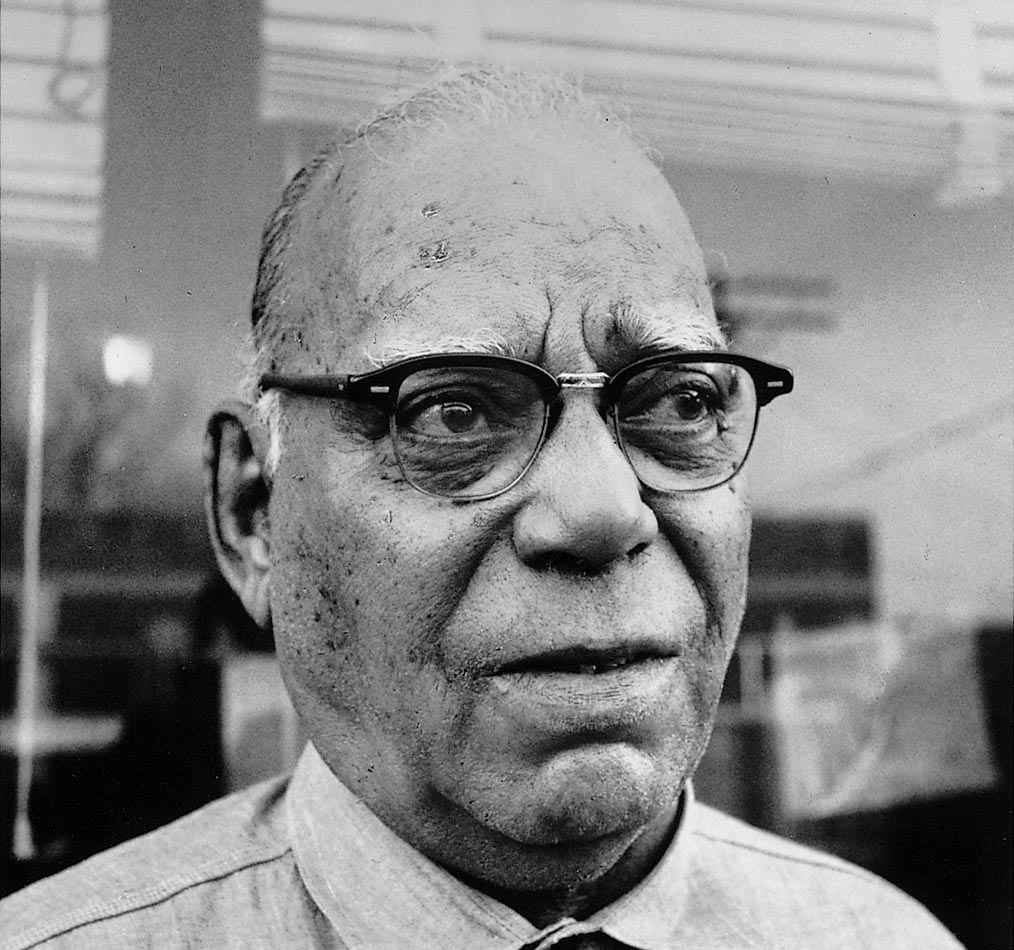 Wide travels and scenes from National Geographic magazine inspired Joseph E. Yoakum's landscapes of sinuous mountains and clouds, cavernous valleys engulfing neat rows of trees, and perfectly rounded suns.
Yoakum's mother was French American, and his father was of Cherokee and African American descent. He was born in Ash Grove, Missouri. He began grooming horses for the Great Wallace Circus in 1900 and worked for several others between 1901 and 1908, including Ringling Brothers and Buffalo Bill Cody's Wild West Show, which toured Europe from 1903 to 1906.
Yoakum returned to Ash Grove in 1908 and married two years later. He and his wife moved to her hometown of Fort Scott, Kansas, in 1915. Yoakum was drafted in 1918 and served in France during World War I. When he returned to the United States after the war, he divorced his wife. Taking various jobs, including working on the railroad and as a seaman, he traveled throughout North America, Australia, and parts of Asia. He saw much of Canada as a hobo. Upon settling in Chicago in the late 1920s, he remarried and worked variously as a carpenter, mechanic, foundry worker, and janitor. He retired in the 1950s and received a veteran's pension.
Portfolio of Work
Click Arrows to View More Artwork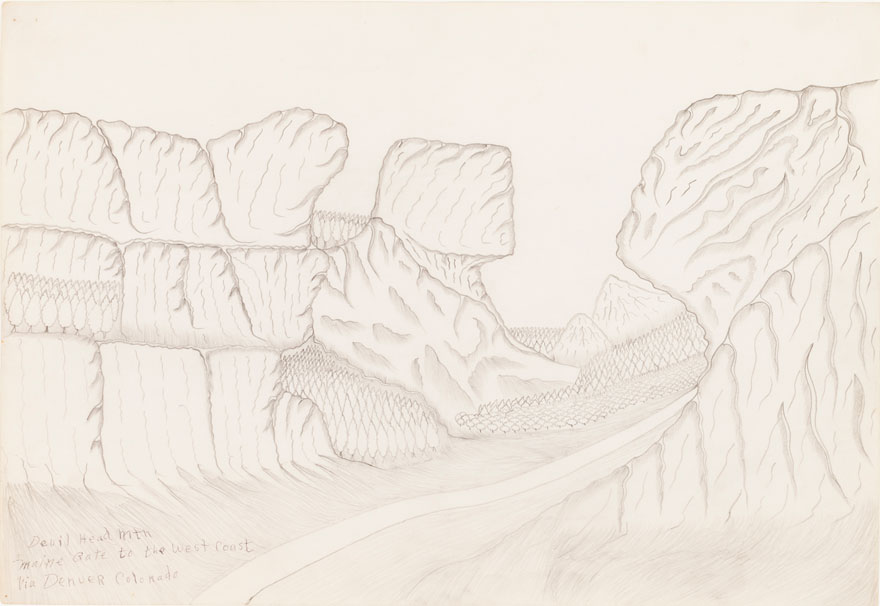 Devil Head Mtn. Main Gate to the West, n.d.
Graphite on paper
American
Donated to the Milwaukee Art Museum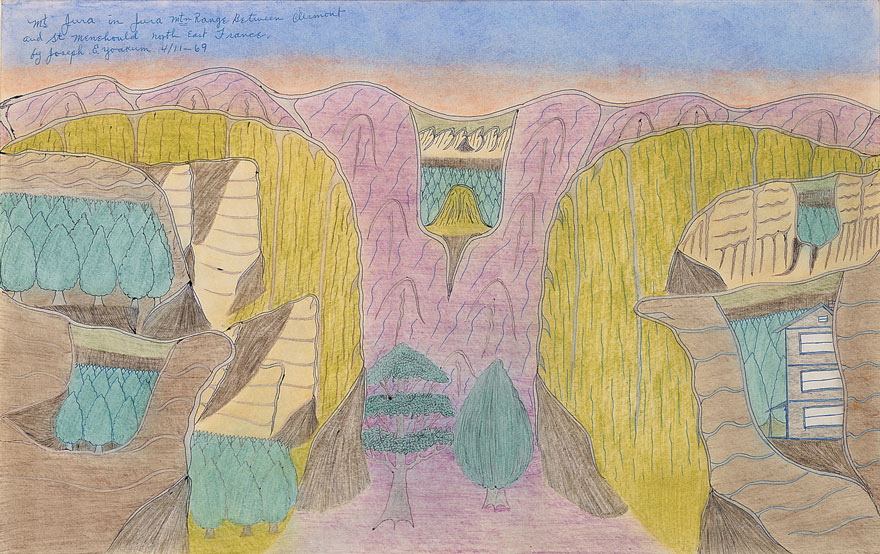 Mt. Jura in Jura Mtn. Range between Clearmont and St. Menehould, North East France, 1969
Graphite on paper
American
Donated to the Milwaukee Art Museum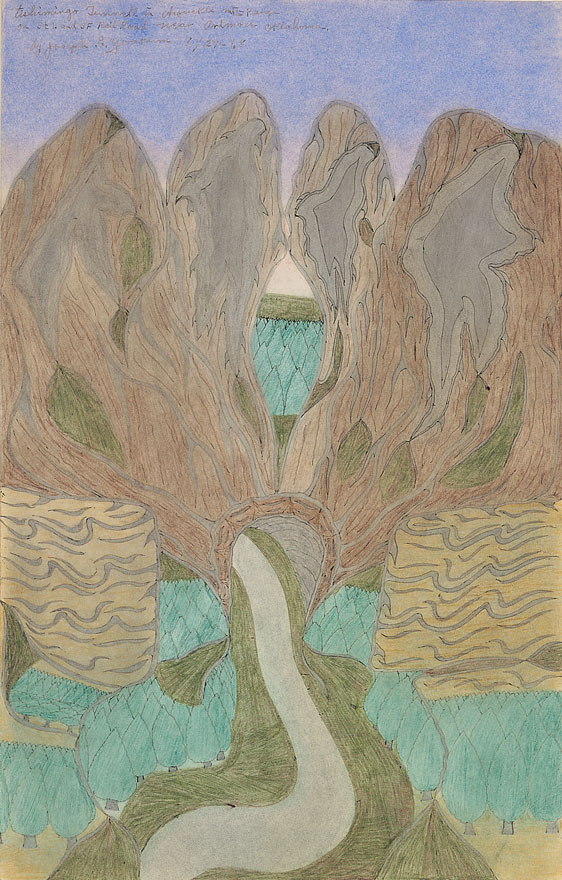 Tishimingo Tunnell in Arbuckle Mtn. Range on St. L and SF Rail Road near Ardmore, Oklahoma, 1969
Colored pencil on paper
American
Donated to the Milwaukee Art Museum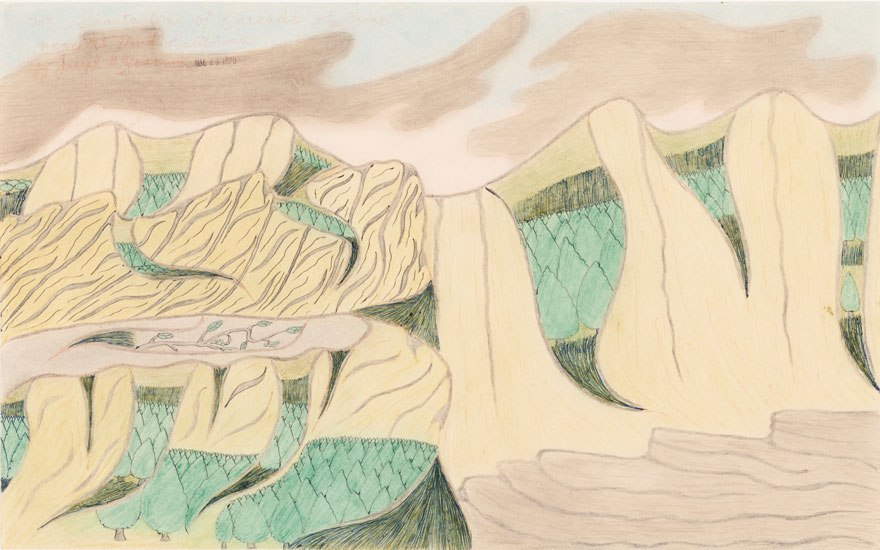 Mt. Shasta (Val.) of Cascade Mtn. Range near Mt. Cloud, California, 1970
Pen and watercolor on paper
American
Donated to the Milwaukee Art Museum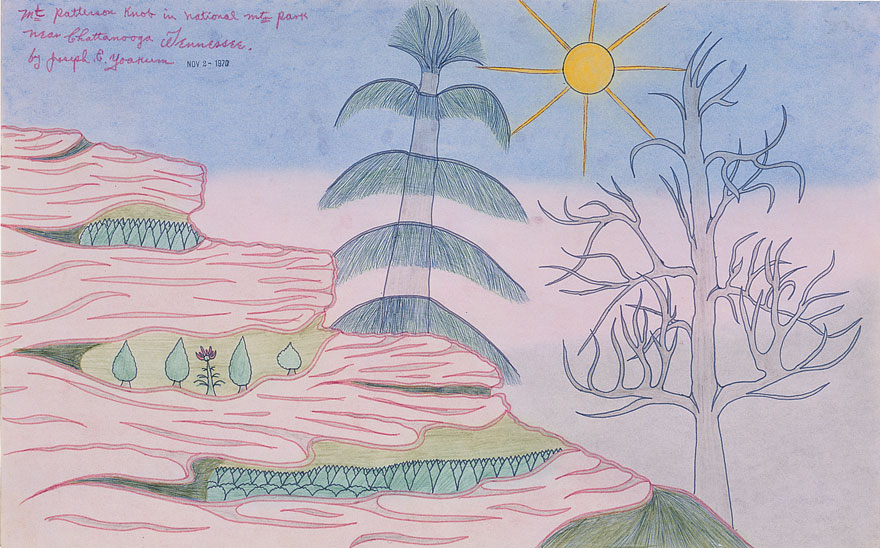 Mtn. Patterson Knob in National Mtn. Park near Chattanoga, Tennessee, 1970
Pen and colored pencil on paper
American
Donated to the Milwaukee Art Museum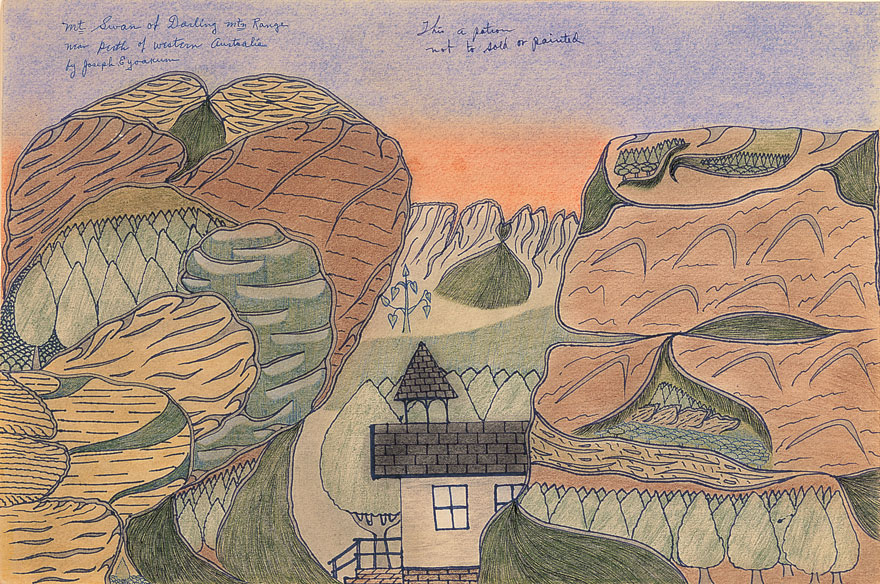 Mt. Swan of Darling Mtn. Range Near Perth of Western Australia
Pen, pastel, and colored pencil on paper
American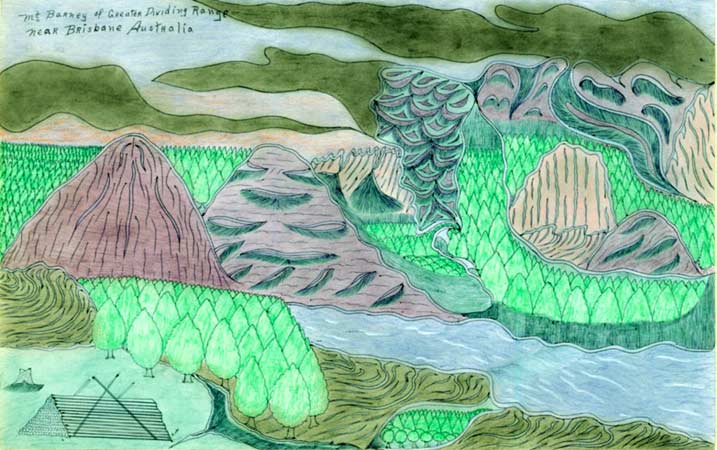 Mt Barney of Greater Dividing Range Near Brisbane Australia
Gouache and Pencil on Paper
American
A dream inspired Yoakum to begin making art in 1962. He described his creative process as "spiritual unfoldment." In the last decade of his life, he drew thousands of anthropomorphic landscapes, working with pencil, ballpoint pen, pastels, and felt-tipped markers on paper. He also drew portraits of a few famous figures and modeled clay sculptures from kits, which he would feature in the window of his storefront studio on Chicago's South Side.
In 1967 John Hopgood, an anthropologist and instructor, saw his work there and immediately bought twenty-two drawings. Edward Sherbeyn was Yoakum's first dealer, but they had disagreements over consignment. The same year, Yoakum met Whitney Halsted, an art historian and professor who brought colleagues and students to visit Yoakum's studio.
In the four years before Yoakum died in the Veterans Administration Hospital, his work was shown at the Museum of Contemporary Art in Chicago, the San Francisco Art Institute, the School of the Art Institute of Chicago, and the Whitney Museum of American Art in New York. To date, more than one hundred exhibitions have featured his work.