Perifimou
1916–2001, British, b. Cyprus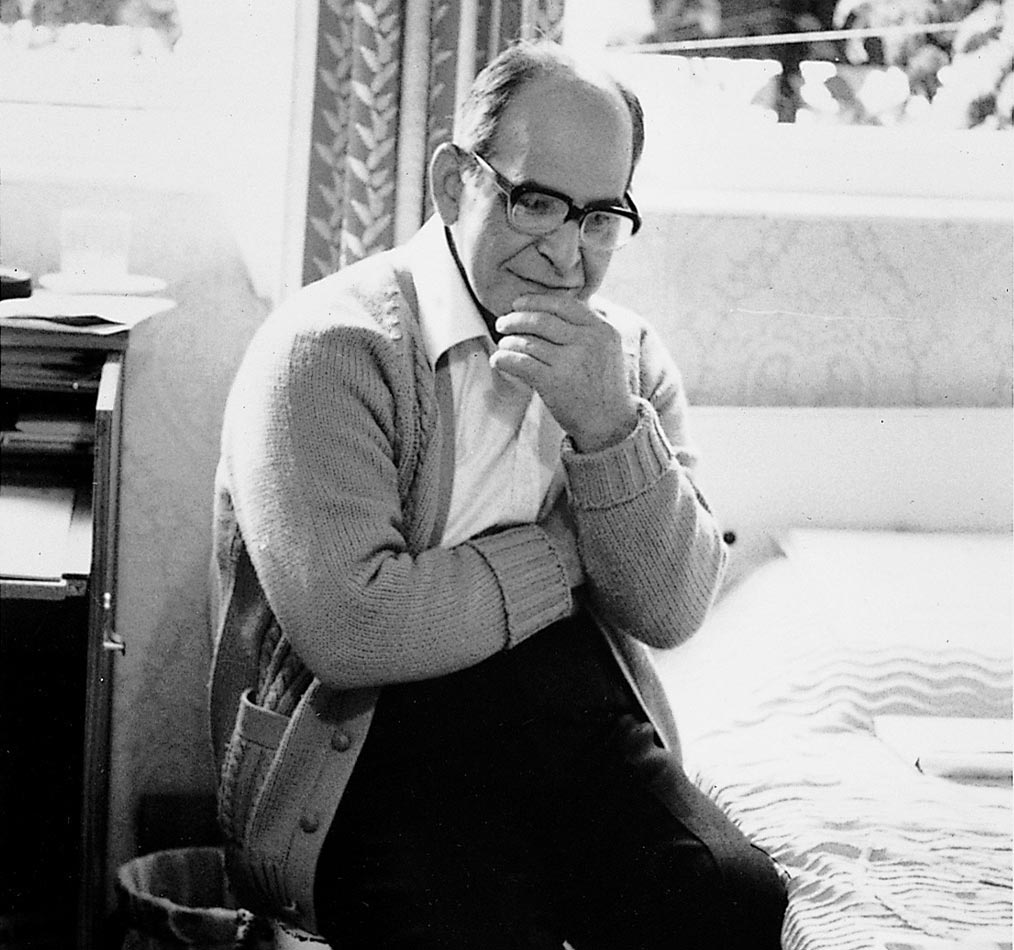 Alexander Georgiou adopted the name Perifimou, which is derived from his father's nickname, Periaphimous, meaning "the famous one." He was born in a village outside Nicosia, Cyprus, and moved to Brixton, in south London, in 1935, beginning to work as a chef and tailor. While serving in Italy, Malta, and North Africa during World War II, he developed a skin disease that prevented him from working for many years. In 1973 a recommendation from the Royal British Legion helped him gain employment as a gallery guard at the Royal Academy of Arts and then at the Tate Gallery until he retired at the age of sixty-five.
Perifimou appreciated works by William Blake and, at age fifty-nine, began drawing while working in the gallery, generating imagery for his paintings by doodling. The flatness of his figures brings them boldly to the surface. The strong shapes and colors of Perifimou's nudes and oversize animals guide the viewer's eye around his paintings' compositions, reinforcing the movement implied by the subjects' body language. The active stance of these simple, iconic forms evokes the climax of an archetypal narrative.
Victor Musgrave, a curator based in London, observed Perifimou at work while visiting the Tate. In 1990 Georgiou and his wife moved to the country, where he lived until his death. In his will, he left much of his work to the village where he grew up.
Portfolio of Work
Click Arrows to View More Artwork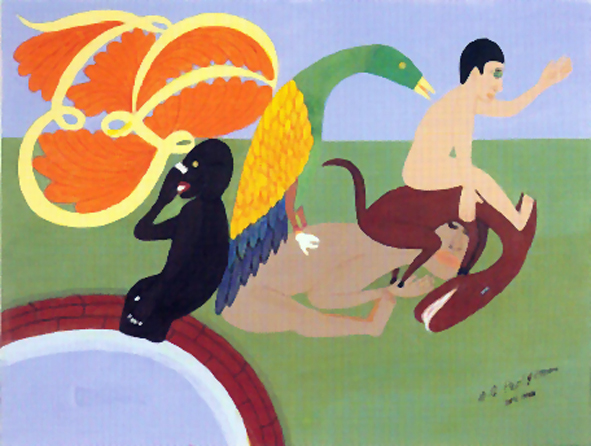 Primitives and Innocents, 1988
Gouache on paper
British (b. Cyprus)
Donated to the Milwaukee Art Museum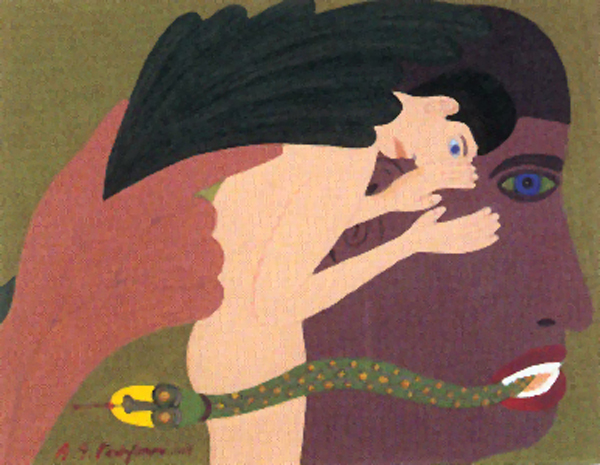 Psyche, 1988
Gouache on paper
British (b. Cyprus)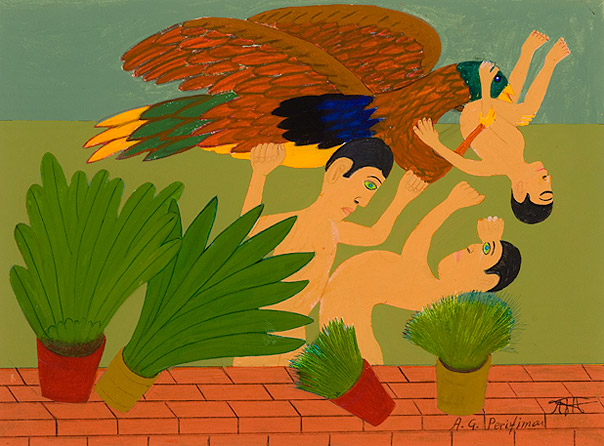 Siamese Dilemma, 1986
Acrylic on paper
British (b. Cyprus)
Donated to the Milwaukee Art Museum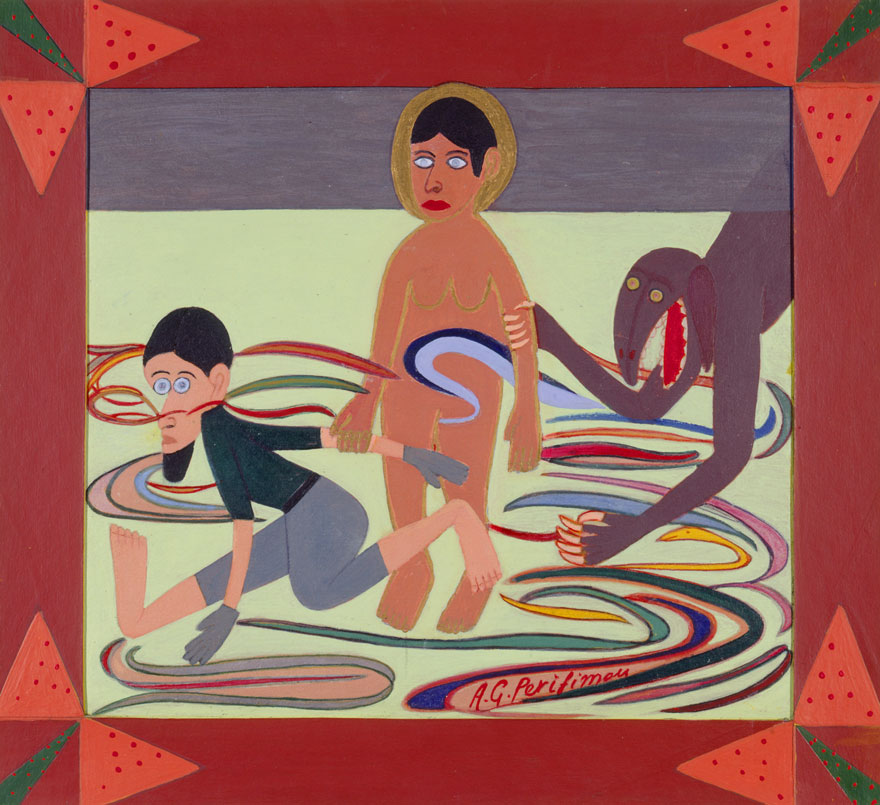 Running from Angels and Demons, 1987
Gouache and acrylic on paper mounted on cardboard, with painted cardboard mat
British (b. Cyprus)
Donated to the Milwaukee Art Museum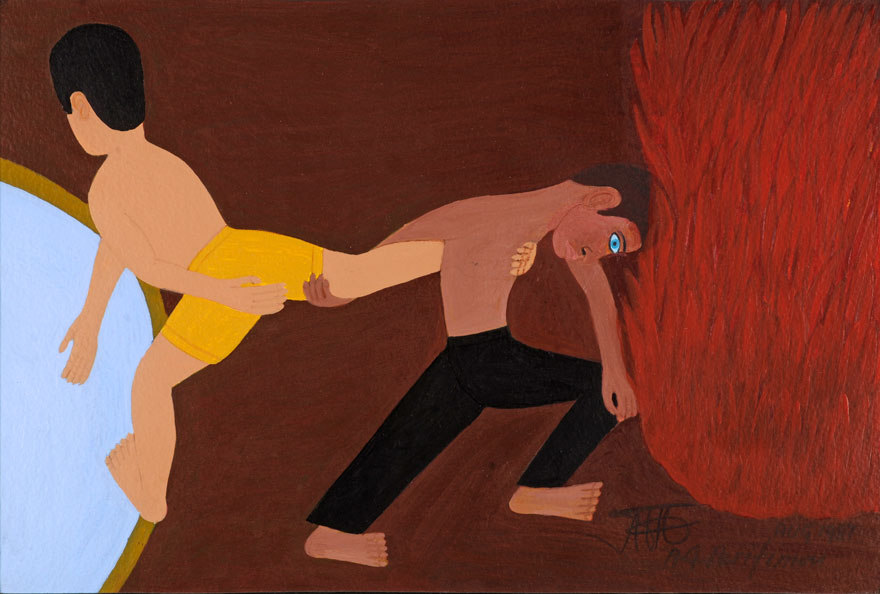 Thatcher's Youth, 1987
Acrylic on paper mounted on cardboard with painted cardboard mat
British (b. Cyprus)
Donated to the Milwaukee Art Museum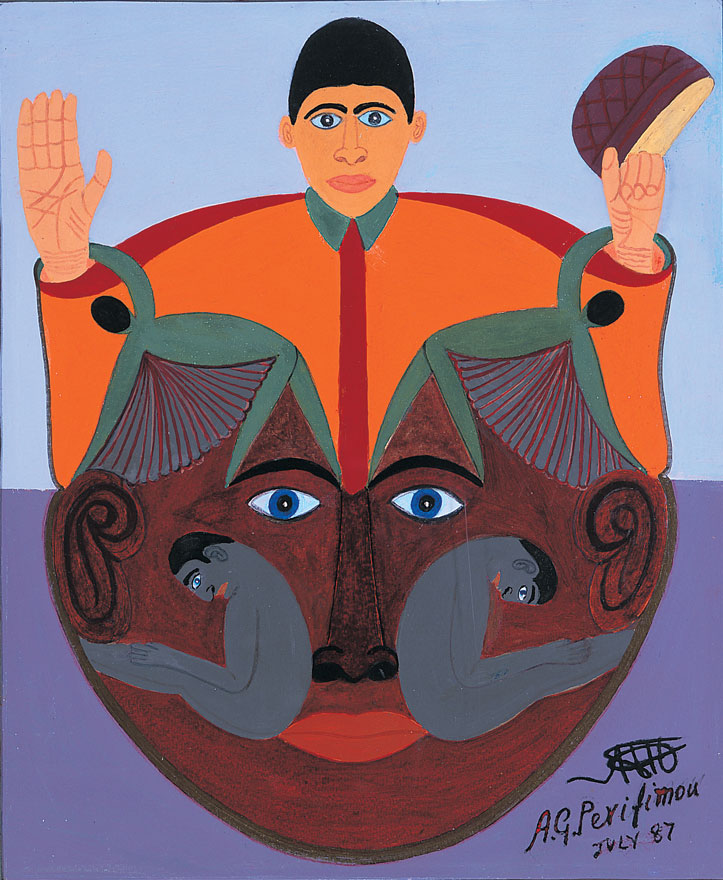 Earthlings, 1987
Acrylic on board
British